Project to boost local tourism and economy, recruitment of talent to the region
Momentum of support from contributors includes $1.5 million lead gift from the Oneida Nation. 
GREEN BAY, WI — The region of Greater Green Bay is a popular year-round destination with more than 5.7 million visitors and $671 million spent during those visits each year – that's up 9% over the last two years.
With the support of several local businesses and other contributors, the Greater Green Bay Convention & Visitors Bureau is ready to enhance tourism and the local economy even more while also recruiting talent to the region. Today, the CVB is excited to share renderings of a new visitor center that will serve as "the front door of our community."
Fundraising is well underway for the Experience Greater Green Bay Visitor Center. Construction of the $6.5 million facility, to be located at Interstate 41 and Lombardi Avenue just west of the Green Bay Packers' iconic Lambeau Field and Titletown, is planned to start next spring. The visitor center is scheduled to open in summer 2020.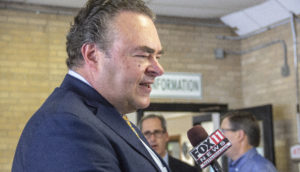 "We have a golden opportunity in front of us," said Brad Toll, president and CEO of the CVB. "There is momentum to boost tourism in a region that is widely visited, and at the same time, we can open the front door of Greater Green Bay to attract talent to our forward-thinking community."
The Experience Greater Green Bay Visitor Center is a project facilitated by Experience Greater Green Bay, a 501(c)(3) partner of the Greater Green Bay CVB. The two-story, 12,500 square-foot visitor center will be managed and programmed by the CVB, which will move its offices there after operating out of Brown County Memorial Complex since the organization was founded in 1969.
"The CVB must move after the decision was made last year to replace the aging Brown County Arena with an expo center," Toll said. "We have been working on this for more than two years. The plan is to create a stand-alone, wow-factor environment that will make a positive impact on visitors so that when they are in our area they stay longer, spend visitor dollars and spend them in more places, come back often and consider moving here."
Momentum for the contributor-funded visitor center keeps building. To date, Experience Greater Green Bay has pledge commitments of $3.5 million, including a lead gift of $1.5 million from the Oneida Nation.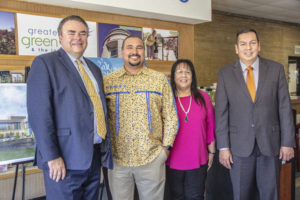 "The Oneida Nation of Wisconsin has a long and proud history of citizenship, collaboration and contributions in Northeastern Wisconsin, extending all the way back to the early 1800s," Oneida Nation of Wisconsin Chairman Tehassi Hill said. "We have more than 16,500 tribal members living in the region and are the third-largest employer in Brown County. By employing over 5,000 people in industries such as gaming, retail, hospitality, construction, financial services, recreation and agriculture, we are proud to say our economic impact here in Brown County and neighboring Outagamie County is $744 million.
"We fully support the addition of the Experience Greater Green Bay Visitor Center and look forward to partnering with the Greater Green Bay Convention & Visitors Bureau on this showpiece for our culturally diverse and enriching region."
Hill joined Toll and other stakeholders for the public unveiling of the Experience Greater Green Bay Visitor Center Campaign today at Brown County Veterans Memorial Arena, home of the Greater Green Bay Convention & Visitors Bureau.
At today's announcement, Toll was surrounded by representatives from several organizations that have already stepped up to support the visitor center campaign. They include Wisconsin Public Service Foundation, Schreiber Foods Inc., Festival Foods, Nicolet Bank, H.J. Martin and Son Inc., Miron Construction, NEW Building Trades Council, UA Local 400, Pomp's Tire Service Inc., Camera Corner Connecting Point,  Belmark, Amerhart, among others.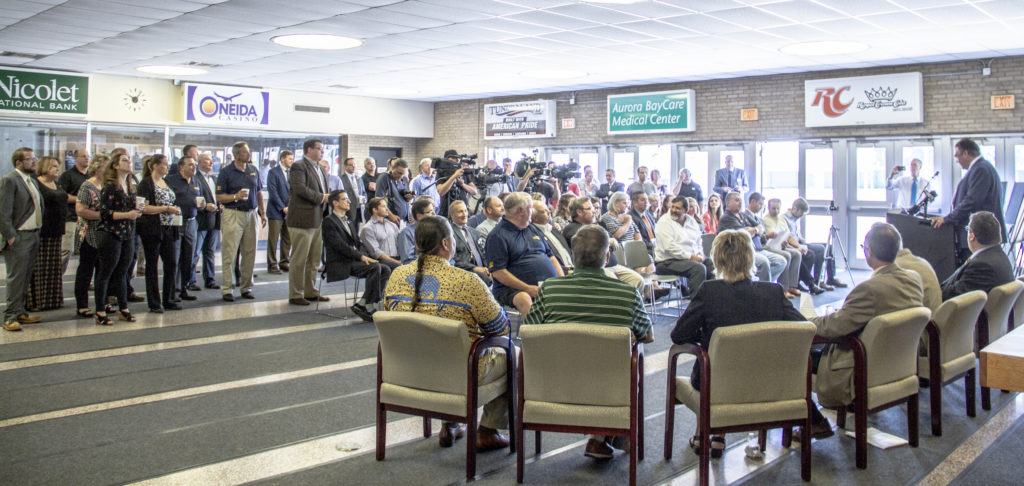 What's to Come?
The Experience Greater Green Bay Visitor Center will enhance the understanding of Greater Green Bay as a great place to live, work and play by showcasing regional arts and culture, waterfronts, education and industry, as well as regional size, reach and vast opportunities and quality of life.
"By serving as the front door to Greater Green Bay, the visitor center will be a destination that will inspire travelers to explore our attractions, dine at our restaurants, shop our stores, stay in our hotels and move here, whether now or in the future," said David Martin, of H.J. Martin and Son, who is co-chairman of the Experience Greater Green Bay Visitor Center Campaign.
The visitor center will feature community spaces and an atrium with interactive displays that highlight attractions in Greater Green Bay, the history and traditions of the community and its industries. The center also will have an outdoor plaza and garden. Somerville's architect renderings were on display to give the public an idea of the project's welcoming spirit.
"We can't wait to showcase all that we have to offer in Greater Green Bay to prospective entrepreneurs and employees at the start of their visit," says Martin. "As employers strive to hire and retain the best talent, we can make the right first impression on visiting job seekers with this visitor center. We will be able to share the history and opportunity of Greater Green Bay."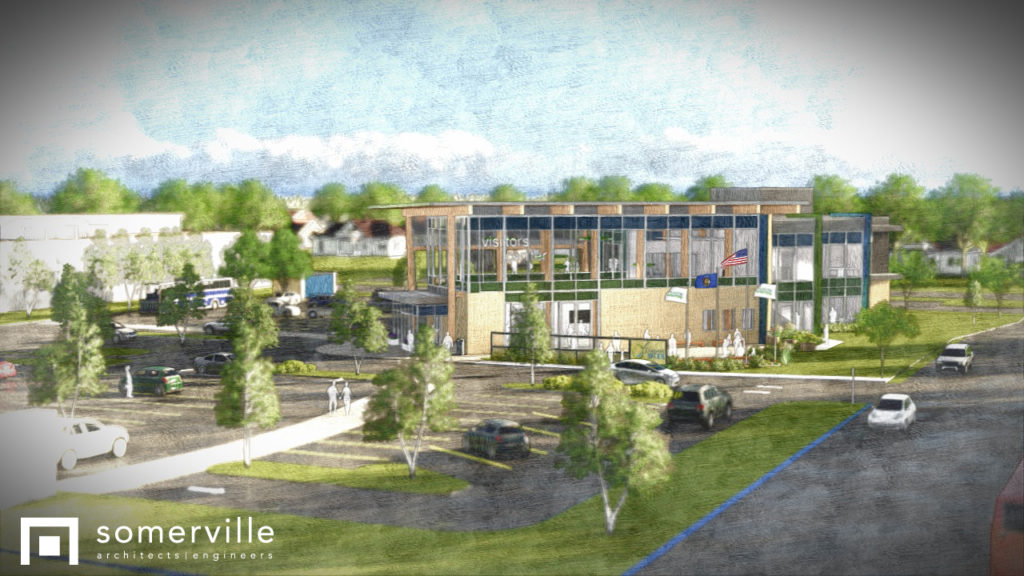 As the centerpiece of the visitor center, the atrium will be a prime spot for local organizations to engage guests through high-tech, high-touch experiences on how they have advanced industries such as dairy, paper, manufacturing, education, technology, transportation, water recreation and health care.
"The Greater Green Bay Convention & Visitors Bureau plays a key role in helping over 5.7 million people a year learn more about what to do when they are here, which has a significant impact on our overall economy," said Mark Murphy, president and CEO of the Green Bay Packers. "We support the CVB's vision to create a stand-alone, outstanding visitor center, just west of Titletown and Lambeau Field. The CVB's vision is in line with ours, which is to share the rich history, opportunity and enjoyment of this area with as many people as we can. Together, we're helping the world see what a wonderful place Greater Green Bay is to live, work and play."
Statement of Support from Governor Scott Walker:
"Tourism in Wisconsin is booming with more than $681 billion impact," said Governor Walker. "Creating a new visitor center in 2020 in the Green Bay area will help tourism grow even more because it will feature everything Wisconsin has to offer. With the world-renowned Green Bay Packers calling it home, we are sure to have visitors from all over the world. And, we want to show visitors what makes our state #1 in fun, family-friendliness, affordability, and a welcoming, worry-free atmosphere*. From Bay Beach, to our breweries, restaurants, and shops, Brown County has so much to do and enjoy, as does the rest of Wisconsin. We want to show off our great state and encourage more and more people to visit and ultimately call it home."
*According to Longwoods International
About Greater Green Bay Convention & Visitors Bureau
For the last 50 years, the Greater Green Bay Convention & Visitors Bureau (CVB) has connected people to fun, family-friendly destinations. Green Bay is famous for football, but countless treasures abound that make Greater Green Bay a special place to visit. The CVB points millions of visitors each year in the right direction to a multitude of attractions, restaurants, arts and entertainment, and places to stay in a vibrant region that has over 280,000 residents and extends to Lake Michigan. In a readers' poll, Wisconsin Meetings magazine named Greater Green Bay's organization the "Most Helpful CVB in Wisconsin" for 2017. Learn more at greenbay.com.
About Experience Greater Green Bay
The 501(c)(3) Experience Greater Green Bay seeks to support educational efforts that further tourism and the tourism industries around Greater Green Bay. The organization will conduct research and disseminate data regarding economic and resource development within Greater Green Bay and Brown County.